Some people are leg, butt, boob or chest people...

I'M A FACE GUY!
I've had a lifelong obsession with portraiture. 
Growing up, my grandmother had a ginormous portrait of her g,g,great aunt who always looked rather mean and quite butch, imagine Queen Victoria sucking a lemon... 

Grandmothers favorite chair was next to this portrait, so when we visited it was like entering the throne room; the reigning queen was sitting next to the old queens portrait...
__________________________
I've used portraits in many of my own homes...
Sarasota, Florida


Palm Beach, Florida


Washington, DC


Eastern Shore of Maryland

USING TRADITIONAL 
PORTRAITS TODAY
(Source: Kerry Joyce)
This minimalist stair hall is grounded by, and the old-world elegance is amplified by that 17th century Spanish portrait.
The room needs nothing else...it's perfect! 

(Source: Joseph Paul Davis)
A foyer I did eighteen years ago in an 18th century Chevy Chase, Maryland home. The house had no historical context, I felt the portraits added that.
(Still looks good too, riiight?)


(Source: Ian Schrager)
Schrager, the king of adding 'surprise' elements added the
 small grandmotherly portrait which takes the edge off of the slick urban chic space.
(Source: Habitually Chic)
I freekin' LOVE this room!
Edited to absolute perfection; the old portrait adds patina, soul and depth to this room.
(Source: Jean Louis Deniot)
Deniot, in my opinion, is the best interior designer alive today!
Many of his rooms have antique portraits in them. 
(Source: Frederic Malle)
This Victorian portrait adds a whimsical touch to this contemporary bedroom whilst bringing up the 'tone' at the same time.
(Source: Bruce Bierman Design)
The last thing you'd expect in this stunning contemporary room is an antique Dutch Masters portrait!  It adds gravitas to the room.
(Source: Eva Quateman Interiors)
An Arabic portrait gives a zhuzhy pop of gilt
making the room feel less 'flat-white'.


(Source: Jackye Lanham)
Granny's keeping an eye on you when you go off recipe and f%#k up her biscuits! 


(Source: Federico de Veras)
This soooo rocks!! 
The asymmetrical collage of the old portraits is so fresh!


(Source: Amelia Handegan)
An old work table is handsomely made into a sink base; t
he young boys portrait resting casually adds oodles of charm.


(Source: Sue Burgess Interiors)
Burgess is well-known for her perfectly edited spaces. 
Her own all-white dining room is grounded by a dark, brooding antique Dutch portrait.

(Source: Robert Couturier)
An 18th century English gentleman reigns supreme over an eclectic mixture of 19th and 20th century furniture.

(Source: Country Home Ideas)
A portrait of a Civil War Union officer creates a sense of history in this country home.

(Source: Geoffrey Ross and John Dransfield)
Old unframed oils representing the four seasons on the apple green walls usurp the modest nature of this house and its shortcomings.
It feels fresh with old world elegance.


(Source: Marta Espregueira Mendes)
Art for country homes is hard to find that's not too 'twee' - birds, cows or Grandma Moses can't hold a candle to a lovely antique gilt-framed portrait of a polygamist...

(Source: Jacques Grange)
Modigliani
That's all, just Modigliani.


(Source: Habitually Chic)
Delicately scaled furniture smartly recedes allowing the a
symmetrical
 grid of frameless portraits to be the focal point in this old Beaux Arts home.
(kinda flawless isn't it?)
(Source: Jacqueline Coumans)
A collection always needs to be kept together, or else it looks like clutter. This works because the black-and-white printed portraits are in black frames. 
USING VINTAGE 
&
ART PORTRAITS
(Source: Herve Pierre)
This inexpensive Shakespeare poster is fabulous with that purple sofa! 
Cheap and Chic!


(Source: John Phifer Marrs)
You cant look at this poor dear without smiling - whether it's a caricature or a a real person, it's happy!
(Source: Lepore)
This kooky-ass assemblage is craycray kewl!
Who knew this art class members first attempt at portraiture would be so revered??

(Source: Coastal Living)
Sun swept days end soaking in the tub wondering what happened to Harry since he was fired for peeking through the cracks into the men's showers...


(Source: Finn Juhl)
It's all about Danish design right now, and you know all of us would've thrown that portrait out except Juhl, and he's spot on, it's sooo wonky-chic
!


(Source: Federico de Vera)
A kick-ass collage of $50 portraits of every period and medium come together creating impact - and fun!


(Source: Elle Decor)
Samoan ho!
Don't be afraid to play with old portraits and have fun with them!
 Paint, collage over or glitter them up!


(Source: Amelia Handegan)
Someone took the piss out of this portrait by adding goofy glasses! 


(Source: Lonny)
The easy-breezy feeling of an artists cottage was accomplished by a collection of poorly done portraits, adding drama and humor!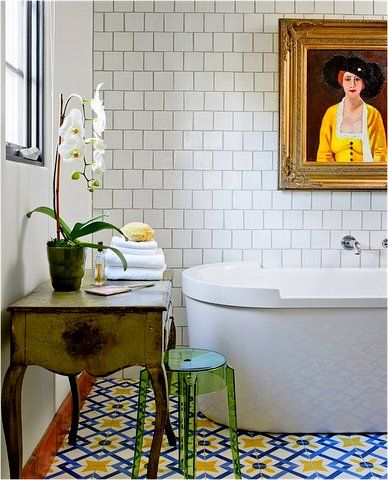 (Source: Photobucket)
Where else can you place such a hideous portrait and have it work?
(Source: John Dowd)
By adding the portrait of the man in his blue jumpsuit you immediately 'get' the occupants have a sense of humor.


At this year's 'Scope' at ArtBasel - Miami Beach I noticed several artists had recycled serious portraits and "had their way with them," creating excellent results!
You Can Do It, I'm Here To Help!