ORGANIZED GARAGES, DESIGNER STYLE
GETTING YOUR GARAGE PRIORITIZED


This is what you have.....

This is what you want.

My housekeeper hit the proverbial nail on the head when she said
 I had several nice cars in the driveway and a garage filled with $100 worth of junk. 


Beside the hoarded collection of junk, the 1930's garage was old and dark with no walls or ceiling and exposed hot-water heater, furnace and electrical panels.
I took the challenge and decided to do it up right.


1.
ADDED STORAGE CLOSETS
One for "dog-stuff" and miscellaneous household overflow.

One was the 'Costco closet' complete with a spare fridge.

Another contained the furnace and water heater.

All enclosures had louvered doors to allow circulation, eliminating mold, mildew and odors.
2.
REMOVED ALL OF THE SPORTS EQUIPMENT AND GARDENING IMPLEMENTS! 
They were given a new home all to themselves in one of those Amish pre-built sheds/playhouses that are delivered complete.  

Now, shovels and croquet mallets didn't fall onto my cars.

Kids and gardeners had full-time access to it all.
3.
ENCLOSING THE WALLS AND CEILING
The garage was insulated and sheet-rocked.

2" x 12" were used as a baseboard around the floor to keep the sheetrock dry should there be a hurricane or flooding from rain.

Crown molding was installed (it's cheap at Home Depot) at the ceiling line to make it a bit dressier.

Chair rail was added, which absorbs all the bumps and dings from car doors. 
4.
LIGHTING
Two recessed fixtures with incandescent

(or LED warm-color) lights per bay.

At night, fluorescent lights make a garage look like there's nuclear fusion going on from the outside.

Make sure that the lighting fixtures aren't obscured by the garage door(s) when up/open.
5.
VENTILATION
An exhaust fan (attic fan) which ran on a thermostat was added.

O

pen grilles cut into the ceiling

 

keep air circulating in the summer, so A/C wasn't necessary.
6.
ATTIC STORAGE
A pull-down stairway was installed gaining access to the garage attic

 Rarely-used stuff can be stored out-of-sight, yet easily accessed when necessary.
7.
WINDOW COVERINGS
Install two-inch Venetian blinds at the windows to match the rest of the house.
8.
PAINT AND 
COLOR!
I painted the garage walls apple-green (Ben Moore #395 eggshell finish)

The moldings, doors and ceiling were painted satin-finish white. 

The floor was painted beige with "garage floor" paint.
9.

FINAL TOUCHES, PERSONALIZING IT
I've always collected antique portraiture and I had a few that weren't so important up in the attic, so I hung them in the garage... it was frickin' great! 
When I sold that house I asked the buyers "what was it about the house that convinced you to buy it?" 

I was expecting the answer to be the lovely waterfront setting or the awesome décor(!) They said.... "the garage!" 

I'm sure that wasn't the reason they bought the house but, it was something that they vividly remembered.


(a note to consider here: If you're selling or renting a house….try to do something like this so they'll remember your house apart from the dozens of others they'll see).
GLAM GARAGES THAT WORK!
Bombdiggity!

Don't know that you need oak paneling and wall sconces in your garage, but a little upgrade would be nice....
Bitch's got too much junk in da trunk!

 Get to WalMart and buy some tubs and shelving.

WTF is up with allowing kids to keep their shit anywhere they want? And w
ho's playing with those four year old busted-up toys? Send that crap to Goodwill, now!
A nice $30K car surrounded by $50 worth of junk?  Can't even
…

Wouldn't this below be a little bit less frustrating?

If you wanted to do it right, you'll have to spend a few bucks. 

There are many opportunities to get 'garage specific' cabinetry;
 even some of those white melamine ones available at any big-box stores or IKEA.

DO NOT use the old kitchen cabinets in the garage!!

It's sooo white trash, they never fit as the sizes are always wrong. Spend the damn $2,000 and have a garage you'll be proud to open the door to.


There are many types of floors if you wanted to go overboard. There are amazing floor 
tiles that are hot looking. Personally, I prefer painted garage floor, OR,  believe it or not...wall-to-wall carpeting.. YES!  I've had it before and it's amazing. 

If you glue-down a low-pile, looped, industrial nylon carpet and place a cheap rubber doormat under each engine it'll be great. Carpet is so easy to care for, broom sweep it, or vacuum it once every 2 months, etc. Don't worry about the water or snow melt it dries just fine. 
I know many of you don't have large houses and the garage is a bonus room for the lack of interior space, a place to keep some clutter out of the kitchen, hallways or family room. Try putting locker-style compartments for the kids school books, sports equipment, etc. Then it's always in the same place, and separated from their siblings things. IKEA has many versions of these.
If the garage is tidy, the crap is hidden and the floor is nice, you can let the kids play out there, or have a large picnic in there if it rains; a true bonus room!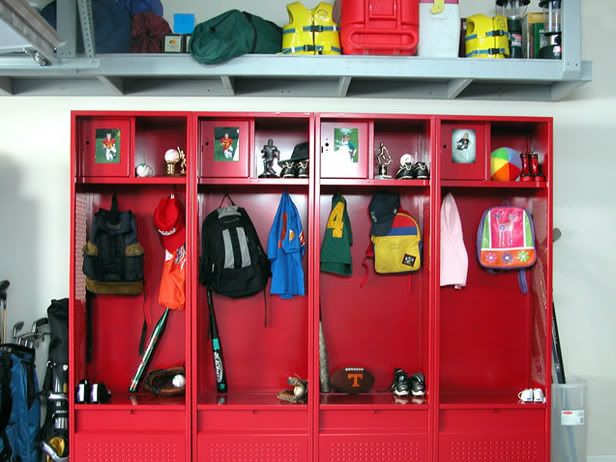 Rubbermaid makes a very practical system for keeping order in your garage too:
Here is another blogger's advice on organizing a garage: 

And... Here's some garages to strive for...

You can do it, I'm here to help!